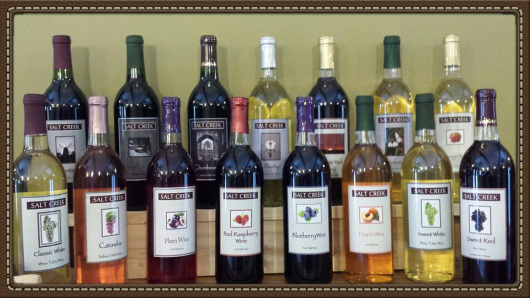 News and Events:

Coming Soon:
Nashville, IN Tasting Room
26 N Honeysuckle Lane, Nashville IN


Where to purchase:

Hildreth's Liquor Mart
Seymour IN. http://hildrethsliquors.com

Salt Creek Brewery
Bedford, IN. www.saltcreekbrewery.com

Hoosier Buddy Liquors
Nashville, IN https://plus.google.com/101297646323075303594/about?gl=us&hl=en

Superior Discount Liquor
1097 E. Main Street, Greenwood, IN. www.superiordiscountliquorsindy.com/

Ember Urban Eatery
435 Virginia Ave, Indianapolis, IN. www.emberurbaneatery.com

Bob O Link Liquors
8921 S US Highway 31, Edinburgh, IN. www.bobolinkliquors.com/

Happy Herman Package Store  Address: 202 W Commerce St, Brownstown, IN. Phone:(812) 358-3233

Northside Liquors
821 N Ewing St.) , Seymour, IN . Phone (812) 522-4877 www.northsideliquorsseymour.com





















Please come back often as we will be updating this site as more wines become available.
HOW TO CONTACT US:
By phone: (812) 497-0254
by email: saltcreekwinery@gmail.com
or by using the "CONTACT US" tab at the top of this page.